Before joining OTM in 2017, Wilma Paxton Doherty (who hails from Scotland) accumulated over 15 years of experience in consultancy. She also held Board-level roles in the UK public sector as well as a senior advisory role in a national public health organization. Around three years ago, Wilma also opened up a bistro in Aberdeenshire, Scotland. We gladly welcome her to the team! Learn more about Wilma below.
Wilma Paxton Doherty
Give us a bit of your background before joining OTM.
I have over 15 years experience in consultancy. But before beginning my consulting career, I held Board level roles in the public sector in the UK and a senior advisory role in a national public health organization.
I have had a wide and varied career! From nursing, to setting up and running an interior design business, back into public health and senior management — and from there into consultancy.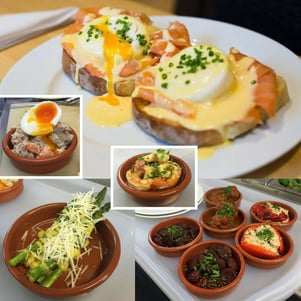 Just over three years ago, I felt that I needed to do something completely different and take a break from consulting. Together with my family, I set up a little café bistro in my neighborhood on Royal Deeside in North East of Scotland! My family (and me) love food and cooking. We were inspired to create a little place that we felt plugged the gaps in our local area. We have dogs and horses and love to be outdoors and missed having a friendly, informal place to eat and meet our friends – and know that our dog and horses would be welcome too. So, we created Riverside Cottage.
It's the hardest work I have ever done – but I am so proud of it. It goes from strength to strength and I have left it in the very capable hands of my family. Our customers love our homemade soups and meals created from fantastic local produce. We change the menu often, but some of our more popular breakfast items are Eggs Benedict and our tapas are great, too.
But after three years – it was time to come back to consultancy. I missed the intellectual challenges and I actually missed the traveling! With OTM, the travel is international, which is different from my previous career and the work takes me in a slightly different direction – applying a very clear and effective methodology to support businesses and achieve their goals. OTM clients are very diverse and the work will be different all the time. I will love being involved with people from very different backgrounds and industries. And, I am really looking forward to working with different members of the OTM team.
I have known Mark for at least 10 years – and almost joined forces with him back then. I knew it was only a matter of time!
What's a fun fact about you?
I have four horses and keep them together with my friend's horses in a small herd. I love being with them and my little working cocker spaniel called Archie. Archie is famous in our little café bistro. He used to come to work with us every day and was a wonderful maître d'. I have also been known to play in our local pantomime and village hall productions. I was even in our amateur production of Calendar Girls – to rave reviews!!
Favorite quote?
I have been known to say, "In the absence of knowledge, perception is king."
---
On The Mark's experience and passion for collaborative business transformation that's supported by pragmatism, systems thinking, and a belief in people is unparalleled. OTM has been in business for 28 years and is a global leader in organization design consulting.
We understand that you may want more information on how OTM works with clients, our terms and further information from our extensive case-study library. Contact us about careers, more information or how we work here.