3 minute read

Peter Drucker once famously said that "strategy is a commodity, execution is an art." Organization designers will often quote the architect Louis Sullivan's adage that 'Form follows Function,' reminding us that a business operating model must be deliberately designed to deliver a chosen strategy.
What both positions should do is remind us that there will never be a perfect fit between the demand of a strategy and the design of an operating model. If you overly restrain your strategic intent based on a perception of the capability of the current operating model, you will underperform in your chosen market. On the other hand, if you develop your strategy with total disregard for the capability of the current operating model, you are in danger of never delivering your goals.
Successful companies have learned that what lies behind the art of strategy execution is a deep understanding of the flight path of the operating model changes needed to land in the ideal state, where the form is completely aligned with function. Designing this ideal state of an operating model is just the beginning of the journey.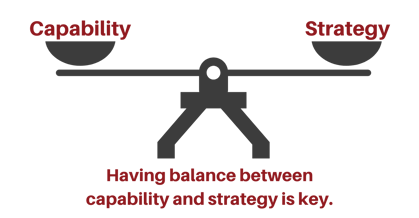 Successful strategy execution relies on strategic milestones being aligned with the transition of the operating model. Madness lies behind setting strategic goals that you know your operating model is not capable of delivering. However, even greater madness lies behind setting strategic goals without even knowing what your operating model can deliver!
Developing a flexible yet realistic operating model transition plan is the science that lies behind the art of successful strategy execution. The decisions that are made about the phasing of operating model changes, where and when to invest or divest, and what/when to stop, start and continue are key. However, aligning these technical changes to the operating model with the changes in the social system is the only way to ensure that new ways of working become embedded and sustainable.

Developing a new strategy is not easy. Designing a new operating model is not easy. Behind this, the real success lies in aligning new strategic milestones to a realistic yet agile operating model transition plan.
---
Never miss out on OTM blog updates.
Subscribe to be notified whenever we post.
---
Peter Turgoose is a Senior Consultant at ON THE MARK.

OTM is the leading global boutique organization design consultancy with offices in the USA and UK. With over 450 successful redesigns and operating model modernizations completed, OTM is owner of the industry's most integrated, comprehensive and holistic organization design solution. OTM enables its clients to realize their future ambitions.