March Wisdom: You don't have to be Agile to be agile.
Agile approach is not the only way to design flexibility and speed into your operating model...Read more about modernizing your operating model!
Thanks For Making Our First Executive Briefing of 2019 A Success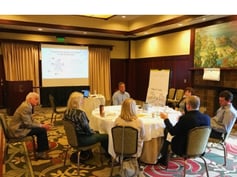 Last month, we held our first Executive Briefing in San Diego alongside a local partner, Leland Sandler. We hosted 6 local leaders from business and government. We addressed their questions regarding about how to evolve an operating model in a constantly changing environment, how to not "overengineer" an operating model so that it is fit for purpose, possible ways to organize so that the current demands of the business are met while still being able to have space for innovation, and a number more of stemming topics.
If you have similar questions - request an Executive Briefing in your area!
---
Upcoming Events
OTM Executive Briefings: How To Know When It's Time To Modernize Your Operating Model
Join OTM and C-Level executives for a collaborative, 90-minute discussion on this important topic in organization design. Seats are extremely limited.
Locations:
Manchester, UK - Tuesday, 26 of March

London, UK - Wednesday, 27 of March

Frankfurt, Germany - Friday, 29 of March
[ut_button color="red" target="_self" link="https://on-the-mark.com/events/" size="small" ]Register Here[/ut_button]
ODF's 2019 Annual Conference: Hope To See You There

Join us for the ODF Annual Conference 2019, on April 16-18 in Kirkland, Washington.
This year's ODF Annual Conference will focus on Technology in service of people. Mark LaScola, Managing Principal of ON THE MARK, together with Kellye Teste, President & CEO of The Law School Admissions Council will present a case study on organization design issues with respect to choosing an operating model on Thursday morning, 18 April.
[ut_button color="red" target="_self" link="https://on-the-mark.com/events" size="small" ]RSVP & Learn More[/ut_button]
---
Recent OTM Articles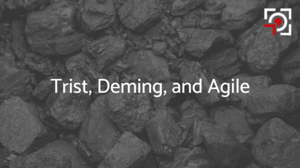 Better Exploring the Early History of Agile Thinking: Trist & Deming
Wilma Paxton Doherty
Comparing what Eric Trist's (Socio Technical Systems Theory) self-managing teams and Deming's Red Bead game have in common – and how they relate to the early history of Agile. Read more...
What is the Manager's Role in Agile?
Peter Turgoose
Scrum teams are self-organizing teams, but this does not mean that there is no need for managers in the organisation. So, what is the manager's role? Read more...
---
OTM Team Member Spotlight: Dan Schmitz, OTM Consultant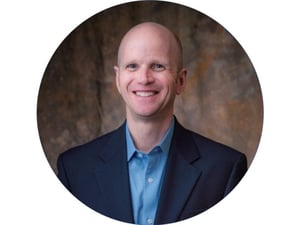 "My professional interest is organizations – people acting together to produce something. I want to understand how they work. I want to understand how they change. There is an important illusion at play here. Organization's don't change. People change. It's true that organizations are viewable as machines with inputs, processes, and outputs. However, I'll fail if I internalize this model. I influence organizational change indirectly, through people. There is a great personal reward when working this way. I get to see people who have crossed the chasm of change with the realization that they have improved their own organization."
[ut_button color="red" target="_self" link="https://on-the-mark.com/about/" size="small" ]Learn More[/ut_button]